Why the Cowboys F***ed Up With the Dan Bailey Contract
Subscribe to The DC Times
Never miss a post again!
I recently explained why I don't like the contract handed to kicker Dan Bailey, and it deals primarily with the ability (or lack thereof) to use past kicker efficiency to predict the same in the future.
How much value does Bailey have over a replacement kicker?
For now, I'm going to bypass the topics of randomness and kicker consistency, instead focusing on how valuable Bailey has been in the past. For the record, giving players contracts based on past play is a quick path to finding yourself in salary cap trouble, as the Cowboys are learning right now. Players need to be paid based on projected future production.
In any event, Bailey has made 89 of his 98 career field goals, which amounts to 90.8 percent. That's a really high number. Below, I broke down Bailey's accuracy from different ranges, comparing it to the league average.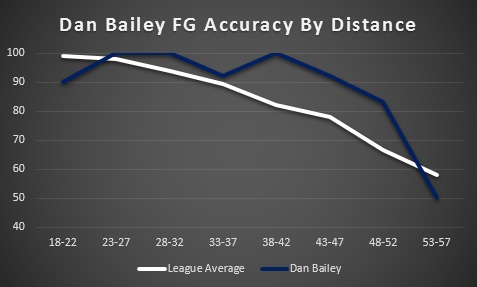 Bailey has been more accurate than the average NFL kicker in most areas of the field, particularly from mid-range (38 to 52 yards). His reliability in that area has been really important to Dallas.
It might seem difficult to judge Bailey's value to the Cowboys in a very concrete way, but we can actually do it fairly easily using expected points. On every field-goal attempt, the Cowboys have a certain expectation of how many points they'll score over the long run. If your kicker will make a particular kick 50 percent of the time, for example, that expectation is 1.5 points (three field-goal points multiplied by the chances of making it).
By comparing Bailey's historic production in each range with the league average, we can get a really accurate idea of how many more points he's been worth to Dallas than a league-average replacement kicker. Here's how those numbers play out.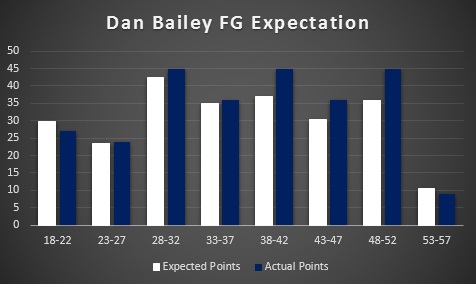 During his entire time in Dallas, Bailey has scored 267 points via field goals. Based on the length of those attempts and the average rate of accuracy in each range, the Cowboys could have expected just more than 244 points from a replacement kicker.
That means Bailey has been worth 23 points above average over a three-year period. Playing 48 games, that's 0.48 points per game, on average.
So the question is whether a mean of 0.48 points per game is worth $23 million over seven years and $7.5 million in guarantees.
Could the Cowboys have spent that money in a smarter way?
That's a difficult question to completely quantify, but I think the answer is yes. The reason for that comes in the next two questions regarding kicker consistency and sample sizes.
How likely is Bailey to repeat his past stats?
In 2007, the Cowboys drafted kicker Nick Folk in the sixth round. Folks in Dallas thought Folk was the answer at kicker after he made 49 of his initial 56 field-goal attempts, including a number of "clutch" kicks.
After connecting on 87.5 percent of his kicks over two-plus seasons, though, Folk just lost it. He missed an incredible seven of his final 11 field-goal tries in Dallas, and the Cowboys eventually sent him packing.
Folk's story isn't that unusual for kickers, whose play is filled with game-to-game and season-to-season variance. Advanced NFL Stats has found that there's actually a negative correlation between a kicker's field goals from one year to the next, meaning there's really no viable way to predict performance; a kicker's past performance cannot help us predict his future.
That's scary as it relates to Bailey. Humans are wired to detect patterns in data when they don't actually exist, so we're predisposed to believe that Bailey's past accuracy will be indicative of his future play.
It very well might be, but there's no way for us to know that. He might continue his streaky play (although long-term field-goal accuracy of more than 90 percent is very unlikely), or he might be the next Folk. We don't know.
How confident can we be that Bailey's accuracy is a reflection of his talent?
Related to the topic of kicker consistency is the idea that we can't necessarily trust Bailey's past numbers because it's just a really small sample size. Again, his accuracy might be a close approximation of his true talent, but it also might not be. We haven't seen enough kicks to really tell the difference at this point.
You might argue that 98 field-goal attempts is a pretty hefty sample size, but that's not the relevant one. The relevant sample size must include the number of misses and a comparison of that rate to a baseline (the league average).
If I told you to test a population for a disease that scientists think occurs in one in one million people, you'd need to test millions and millions of people to draw a conclusion regarding the actual rate of infection. A sample size of 500,000 people, although it seems large, would be meaningless.
As it relates to Bailey, it doesn't matter how many field goals he's kicked; it matters how many he's missed relative to the average.
Since kickers around the league make most of their field-goal attempts, it becomes more difficult to determine if Bailey's accuracy is due primarily to his own talent or if it's just variance.
In any large pool of players, we'd expect performance well above the mean just from chance alone. Maybe he's just one of those lucky outliers. When you cut down his field goals to include only "clutch" kicks (however you want to define that), the relevant sample is ridiculously small.
Either way, the decision to give a kicker $7.5 million in guaranteed money probably isn't so wise. The Cowboys are banking on Bailey continuing his past success, but kickers as a whole possess no season-to-season consistency.
As much as I like Bailey and hope he continues to thrive in Dallas, the odds of him continuing to kick at a league-leading level are probably no better than him becoming Nick Folk 2.0.