Why Cowboys Must Re-Sign Dez Bryant
Subscribe to The DC Times
Never miss a post again!
Wide receiver Dez Bryant is the most valuable player on theDallas Cowboys not named 'Tony Romo,' and it isn't even close. With all of the salary cap trouble the Cowboys have had, their top priority needs to be re-signing Bryant.
In today's NFL, wide receivers are more important than ever. As valuable as offensive linemen are to a quarterback's success, you could argue a big, play-making receiver is even more vital. Quarterbacks are getting the ball out quicker than ever, as evidenced by their time spent in the pocket, recorded by Pro Football Focus(subscription required). That decreases the value of linemen and increases that of pass-catchers.
Further, Bryant is a scarce player. It's not like the Cowboys can go out and find another receiver with his combination of size and ball skills. His skill set is irreplaceable.
Most people seem to understand that the Cowboys should re-sign Bryant, but few understand his worth. The guys atDallasCowboys.com discussed if the 'Boys should re-sign Bryant or left tackle Tyron Smith. The answer is both, but it raises an interesting question: is Smith more valuable to Dallas than Bryant?
While we all know Bryant is a premiere wide receiver, I suspect many would either be torn on that proposition or side with Smith because of "how much more valuable the line is than wide receivers." That might be the case for certain receivers, but not those who score at an astonishing rate. Let's take a look at Bryant's value to Dallas.
Dez vs. Megatron
Lions wide receiver Calvin Johnson is the best receiver in the NFL. But the gap between Megatron and Bryant perhaps isn't as great as you might think.
On a per-route basis, Bryant's first few years in the league have been comparable to Johnson's.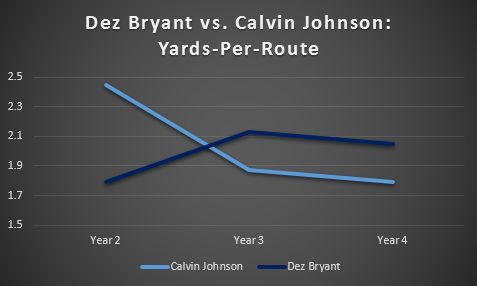 I removed the receivers' rookie years (which were very comparable) to judge them as they entered their career primes. Johnson broke out before Bryant in his second NFL season, but Bryant is right there with Johnson on per-route basis.
You could argue that Megatron has seen a lot more double-coverage than Bryant, but that's probably offset by the number of targets he's seen. Johnson's yards-per-route is surely inflated from getting such a heavy workload; he's averaged over 148 targets per year since entering the NFL, compared to only 118 for Bryant.
Touchdown-Scoring Ability
Bryant gets the ball into the end zone. NFL coaches (Jason Garrett included) seem to forget that the point of football is to score touchdowns. Yes, you need to move the ball up the field in order to do that, but teams that can consistently score touchdowns when they're inside the red zone are going to win.
Both Bryant and Johnson are elite red zone players. As much as Johnson surpasses Bryant in many aspects of wide receiver play, you could argue that Bryant is the superior red zone threat. Going back to his time at Oklahoma State, Bryant has been one of the most efficient red zone receivers ever.
Looking at overall touchdown rate (the percentage of catches that result in touchdowns) in years 2-4, Bryant has kept pace with Megatron.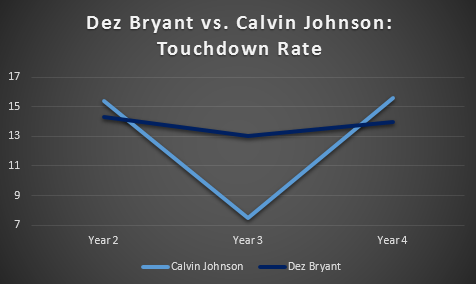 The Cowboys had a superior offense during the years studied, but take a look at the receivers' career numbers for both touchdown rate and red zone touchdown rate.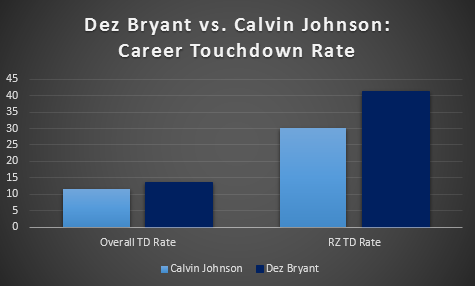 Johnson's numbers are well above-average, but Bryant has been perhaps the best red zone receiver in the NFL since he entered the league. He's scored on 24 of his 58 red zone targets.