My Reaction to the Henry Melton Deal & Other Cowboys Analsyis
Subscribe to The DC Times
Never miss a post again!
Long time no post. At Bleacher Report, I published my reaction to the Henry Melton deal. An excerpt is below. In addition, here are a few of my other recent articles:
Predicting Cowboys' Starting Lineup
Why Cowboys Had No Choice But to Cut DeMarcus Ware
Examining My Pre-Free Agency Predictions (I went 4-for-5)
The Stats
The Cowboys signed Melton to get to the quarterback. In his four NFL seasons, he's been able to do that, totaling 15.5 sacks.
Remember, though, that 2010 was Melton's rookie year and he received less than half a season's worth of snaps. The defensive tackle also played in only two full games in 2013.
In his two full seasons (2011 and 2012), Melton totaled 13 sacks. Pro Football Focus (subscription required) indicates that his pressure and sack ranks improved during his first three years in the NFL.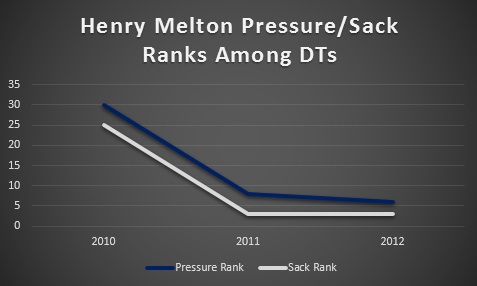 Melton ranked in the top 10 in pressures and top three in sacks in both 2011 and 2012. The fact that Melton ranked higher in sacks than pressures in all three years is really interesting. Most players tend to sack the quarterback at around the same rate once they reach him—most defensive ends turn around one-quarter of pressures into sacks, while defensive tackles are typically lower.
Well, Melton has recorded a sack on 26.3 percent of his career pressures. That's a really high rate for an interior defensive lineman, but because Melton is so light and quick on his feet for a defensive tackle, there's good reason to think he can keep it up.
He's basically a big defensive end playing inside, which means he should be able to rack up more sacks than the typical defensive tackle—even relative to how often he pressures the quarterback.
The Age
The Cowboys did a great job signing Melton to a one-year deal with a strong possibility of three extra years. Taking a look at historic defensive tackle production—in terms of approximate value—the Cowboys should have Melton during his career prime.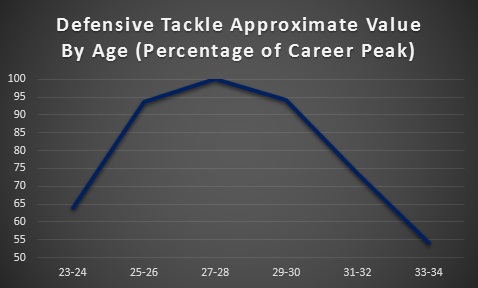 Melton will start the 2014 season at age 27. If he plays as the Cowboys expect him to play, he'll be around from age 28 through 30. That's just before the time when most defensive tackles tend to break down, and the fall from grace is a steep one.
In all likelihood, defensive tackles collapse more rapidly than other positions due to the wear and tear of playing inside.The Cowboys would be smart to keep Melton through the duration of this contract, when he should be in peak physical condition, then probably let him walk when it ends. We don't want to see Jay Ratliff 2.0.