Dallas Cowboys: How to Fill FS Void and Why Anthony Spencer Isn't Signed
Subscribe to The DC Times
Never miss a post again!
I have a bunch of new articles over at Bleacher Report, which you can always find right here. My latest is on why Anthony Spencer is still available:
Health
The most obvious reason that Spencer is still a free agent is that teams are scared off by his knee. Spencer had season-ending micro-fracture knee surgery that is going to keep him out of at least some portion of 2014 training camp, according to ESPN Dallas.
There's just a lot of uncertainty surrounding Spencer's potential 2014 contributions because no one knows how healthy he's going to be. Teams are scared to invest even short-term money into a player who, in a best-case scenario, is still going to miss much of training camp.
Age
Related to Spencer's health is his age. He's not a young up-and-coming 25-year-old defensive end anymore. Already 30-years old, Spencer is at an age when many players begin to break down.
Yes, we can play the "what if he remains healthy?" game all day, but the truth is that although injuries are somewhat fluky, older players 1) get injured more frequently and 2) take longer to recover from them than younger players. It's not a foregone conclusion that Spencer will bounce back from such a serious injury.
Spencer's age also puts him at the top looking down in terms of career trajectory. Using Pro Football Reference's approximate value, I charted typical defensive end production by age.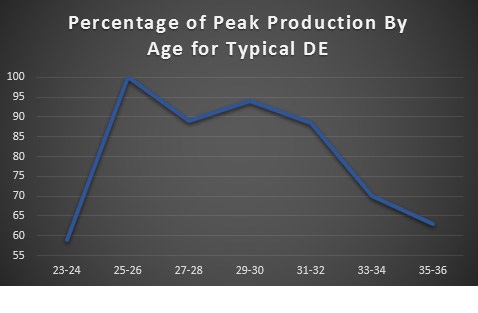 As a function of a player's personal career-best production, the average defensive end peaks at ages 25 and 26. However, pass-rushers can typically maintain a high level of production—near or above 90 percent of their previous peak—into their early-30s. That's a pretty large window relative to other positions.
One of the reasons for that is because players tend to lose speed quickly with age, but not power or length (obviously). Although quickness is important for defensive ends, length and power are underrated components of getting to the passer. That's a good sign for Spencer, who has never really relied on his speed for production.
If you're looking at Spencer on the career trajectory graph, you see that most players his age are still productive. However, there's a pretty steep drop on the horizon, and teams are fearful that, because of his injuries, Spencer is very close to hitting that point. There's some upside to a short-term deal, but the risks are large, too.
Production
Another thing we need to keep in mind about Spencer is that it's not like he was ever a consistently high-level player in terms of getting to the quarterback. In seven NFL seasons, Spencer recorded more than six sacks just once (in 2012). Let that sink in.
Now, Spencer brings a lot to the table in other areas, but teams pay for sacks. If you throw out 2012 as an outlier—which isn't that hard of a pill to swallow since averaged only 4.3 sacks in the prior five seasons—you have an aging player projected at a moderate sack total even if he stays healthy. That's not really a recipe to break the bank.
Another is what the 'Boys should do about free safety:
The First-Round Route
There are two safeties projected to go in the first round of the 2014 NFL draft—Alabama's Ha Ha Clinton-Dix and Louisville's Calvin Pryor. On tape, most analysts are rating the two players similarly, with Clinton-Dix perhaps leading by the narrowest of margins.
Athletically, the players are extremely similar.

Clinton-Dix is quicker than Pryor, at least in terms of the short shuttle, but the two possess extremely similar explosiveness. Now, let's compare the duo to two other recent first-round safety selections.

Both Clinton-Dix and Pryor are faster than 2013 first-round safety Kenny Vaccaro (Texas), but Vaccaro is quicker. None of the three players matches up with former LSU safety Eric Reid—the player the Cowboys could have drafted before they traded down and nabbed center Travis Frederick. Reid is bigger, faster and more explosive than the two safeties projected to be selected in the first 32 picks this year.
Again, we need to consider the tape—especially at a position like safety that's hard to assess in terms of on-field stats. All other things being equal, we should side with the more athletic players, who typically find the most NFL success. We can talk about heart and other intangibles all day long, but there's a reason you and I aren't getting drafted this year. I have all the determination in the world, but it's this pesky 5.50 40-yard dash that's holding me back.
Because neither Clinton-Dix and Pryor have the film of a high first-round pick and since their measurables are substandard for how high they'll be drafted, they're unlikely to offer much value.
The Mid-Round Route
One of the ways NFL teams should be drafting is to assess position scarcity, i.e. how easily can we replace a player/position in later rounds? That's one reason why a "best player available" draft strategyisn't optimal. It's shortsighted in that it doesn't account for position depth.
In regard to free safeties, the Cowboys should ask themselves how scarce the early-round safeties are and how easily their talent could be replaced at a cheaper price. All other things being equal, it makes sense to pay as cheap a price as possible. When a player or positionisn't scarce, that's easier to do.
There are multiple safety arbitrage opportunities in this year's draft. Let's take a look at the athletic profiles for Clinton-Dix and Pryor versus two safeties projected to get drafted in the middle/late rounds: Wyoming's Marqueston Huff and North Carolina State's DontaeJohnson.

I gave each safety a raw athleticism score simply by ranking them in each category. The top performer got four points, the next-best received three points, and so on.
You can see that not only are Huff and Johnson going to be much cheaper than Clinton-Dix and Johnson, but they're also more athletic. Again, yes, we need to consider their film and college backgrounds, but that should already be priced into their draft slot. We're concerned not only with talent, but also talent relative to cost. Relative to their draft slots, Huff and Johnson are more likely than Clinton-Dix and Pryor to offer value.
The Don't-Draft-a-Safety-at-All Route
The Cowboys' final option is to forgo the safety position entirely. Wilcox, Johnson and Heath might not sound like the greatest of options, but let's compare them to the four aforementioned rookies in terms of measurables.

One of the things the Cowboys have done really well is emphasize athleticism in the middle and late rounds (and with their undrafted free agents). That's led to quality additions like running back DeMarcoMurray and wide receiver Miles Austin.
Well, their safety trio is more athletic than the majority of 2014 prospects. Wilcox doesn't have great top-end speed, but his quality vertical, broad jump and short shuttle suggests he's an explosive player.
Heath struggled last year and there are some concerns there, but he's still only 22 years old, has an awesome size/speed combination, and turned in the best broad jump of the group.
Johnson—the player I believe will start and excel for Dallas in 2014—has elite size, good speed and ridiculous explosiveness. In terms of raw athleticism, he scores the highest out of all seven of these safeties.
The Cowboys don't have experience at free safety on their roster, but they have upside.
The Final Verdict
If the Cowboys can acquire value on a player like Dontae Johnson, there's no reason they shouldn't bring him in to compete. However, reaching on a safety in the early rounds seems like a losing proposition in this year's draft because their talent can probably be acquired later, accompanied by a cheaper price tag.
Otherwise, there's no reason for Dallas to force drafting a safety this year. The main reason for that is that they have power in numbers. With three highly athletic free safeties currently on the roster, the Cowboys actually have safety. The odds of each individual player breaking out might not be outstanding, but the probability of one of them turning into a capable starter is pretty good.
The Cowboys have a lot of weaknesses they need to address via the draft, but free safety isn't as big of one as you might think.